Baker's Dozen: Ep.1 Coffee cake with REAL coffee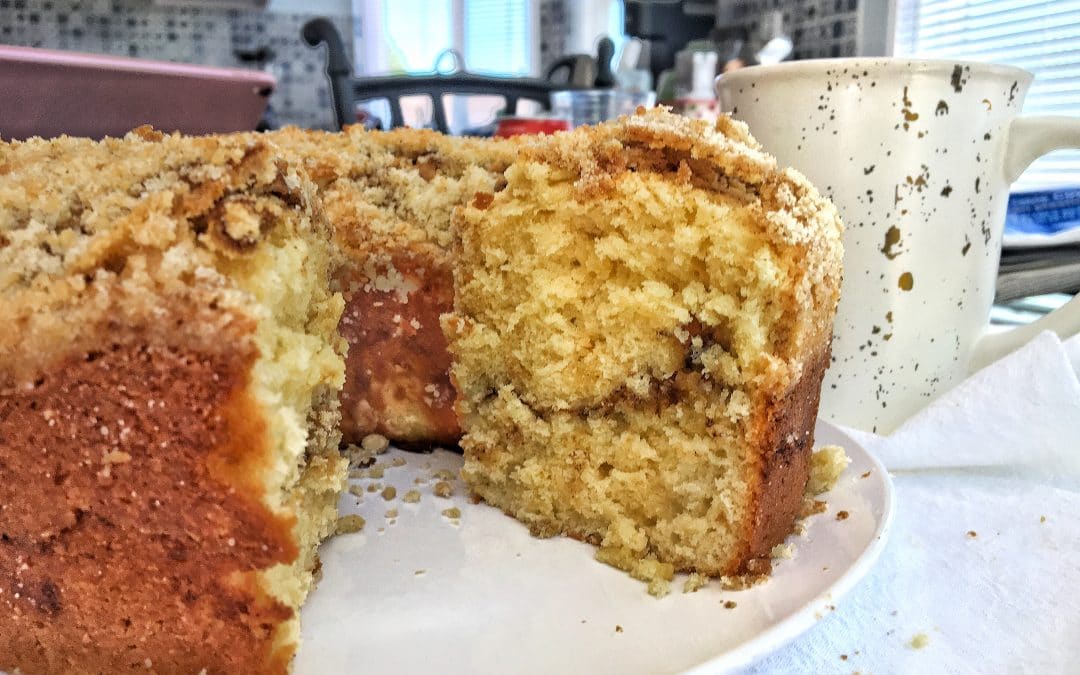 When it was your first time having cake, the first thing that comes to mind is that the cake has coffee. Once you get that warm slice of cake, you find yourself disappointed because there actually is no coffee. You sit there eating the cake wondering why the person who you trusted to serve you a delicious sounding cake to be the one who most mislead you. Throughout the day, you ponder on the thought of your expectations not being met.
Why do they call it coffee cake? It's a cake that perfectly pairs with a cup of coffee. The golden, sweet, and buttery pound cake is layered with a brown sugar and cinnamon filling and topped with streusel. That sweet, sweet crumbly and perfectly textured streusel. It's meant to be eaten in the morning which is nice because the smell of warm cinnamon fills the room and travels well to wake everyone up. (To be honest, I think all cake pairs well with coffee. Feel free to have some birthday cake for breakfast and call that "coffee cake.")
Here is a coffee cake recipe that actually has coffee in it! This coffee cake is a spin-off of my favorite recipe by the King Arthur Flour company. The difference is in the filling and streusel that goes on top.
In the filling, I use a mix of hazelnut and dark roast Pocket Lattes.
INGREDIENTS:
Streusel topping:
¾ c sugar
¾ c flour
1 tbsp cinnamon
¼ c. Salted Butter, softened
Filling
½ cup brown sugar, packed
1 ½ tbsp. Cinnamon
2 Pocket Lattes (any flavor of your choice! I used hazelnut and cream + sugar)
Cake
1 ½ sticks of unsalted butter, room temp
1 tsp. Salt
1 ½ cups granulated sugar
1/3 cup brown sugar, packed
2 ½ tsps baking powder
2 tsps vanilla extract
3 large eggs, room temp
¾ cup sour cream
1 ¼ c milk, room temperature
3 ¾ cup
STEPS:
Whisk the streusel topping (sugar, flour, cinnamon, and butter) together in an air tight container. Close the lid and keep it cold in the fridge until you are ready to use it.
In a food processor, put the pocket lattes in and crumble it. (Helpful tip: freeze the pocket lattes in the freezer for 10 minutes beforehand to make it easier)
Add the sugar and cinnamon and give it a quick blend. Pour into a bowl and keep in fridge until ready to use.
Pre-heat the oven to 350 degrees Fahrenheit.
Mix the flour and baking soda in a small bowl.
Mix the milk and sour cream in a small bowl until there are no lumps.
In a large bowl, cream the sugars, butter, and salt on medium to high speed for 2 minutes.
Add one egg at a time, blending until incorporated.
Add 1/3 of the flour mix into the large bowl and 1/3 of the milk mix. Alternate between the two mixtures to make it easier to whisk until combined. Try not to overmix the batter.
Pour half of the cake batter in the bundt pan. Sprinkle the filling evenly over the cake batter. Pour the rest of the batter on top. Top with streusel topping evenly.
Bake in the oven for 1 hour. If using a glass bundt pan, bake for an extra 5-10 minutes.
Other baking pan times:
| | |
| --- | --- |
| Pan Sizes | Times |
| 9 x 13in | 40 minutes |
| Two 9" rounds | 30-40 minutes |
If you try this recipe, post a picture on Instagram and tag us! Can't wait to see all your wonderful cakes!
What other baked goods should we make with Pocket Lattes?